Books
Occasionally I come across books that stand the test of time. I offer these to you in the hope that they will aid you on your journey as they have me on mine. In addition I have included my two books. Happy reading.


Fables for Wisdom Seekers Young and Old by Barbara Meyers, MSW
​
Following in the legacy of teaching stories, these Fables invite caring adults to explore with children ages 6-11 the challenges of growing the self in family, school, community, and the world at large. Addressing issues of self-esteem, relationships, bullying, and losses, each Fable is accompanied by a series of suggested talking points to support parents, teachers, and counselors in deepening the story and moving it from the realm of fantasy to the everyday world of the child and reader. These conversations join the natural instincts of childhood - curiosity, intuitive knowing, zest for learning, open-hearted caring, innate wisdom, and the joy of play - with the wisdom adults have gained through experience. Together children and adults build a bridge to a future in which our ways of being reflect what is fair and just for all who share this planet. $19.70 including shipping. Click the Buy Now button below to purchase.

---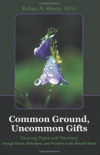 Common Ground, Uncommon Gifts: Growing Peace and Harmony Through Stories, Reflections, and Practices in the Natural World by Barbara Meyers, MSW

This book lays the foundation for engaging the natural world as wise teacher for both our personal lives and the well-being of the planet. Readers are invited to enter the world of nature to awaken their senses, their sensibilities, and their soul to answer profound questions regarding the meaning of life. Through stories, musings, and practices woven together through the paradigm of the Native American Medicine Wheel, readers find direction for answering those questions, so that they may bring their unique gifts into the world and become effective stewards of planet Earth. $15.00 including shipping. Click the Buy Now button below to purchase.
---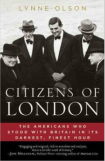 Citizens of London, By Lynne Olson

Men and women of courage and integrity hold a beacon for those who follow. At the same time, each is a human being with frailties and vulnerabilities. Lynne Olson, a consummate historian and writer, digs deeply when she writes about events through the lives of those who impact history. In Citizens of London, she weaves an engaging and inspiring story of Britain's darkest and finest hour as the country stands alone against Hitler's forces. Through the eyes of three Americans living in London, John Gilbert Winant, Edward R. Murrow, and Averell Harriman, we are drawn into the intrigue, the power struggles, the very lives of the courageous men and women who steadfastly refused to surrender.
---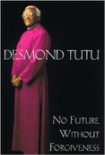 No Future Without Forgiveness, By Desmond Tutu

How does a country and its people move forward after years of oppression and savagery? How do two worlds, in this case a black and a white, come together to build a democracy? Here Desmond Tutu, Chairman of South Africa's Truth and Reunification Commission, reveals what is necessary for both the oppressor and the oppressed for reconciliation to occur. Here there are no stories of retribution but beautiful stories of pain and forgiveness, and brave and honest stories from those who committed unspeakable activities. The work of the South African people, through the leadership of this Commission, gives each of us a map for how to move forward with forgiveness whether in families, ethnic conflicts, or nation-states.
---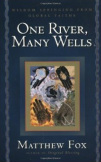 One River, Many Wells, By Matthew Fox
​
In a world of injustice, conflicts and division, here is an ecumenical approach to the faiths that span the world. Though each faith can be viewed as a separate well of water, in the end each draws from the same
river or source. Here is a way to find the common ground between the faiths - Christian, Moslem, Judaism, Hinduism, Buddhism, Pagan, or Native American - in the search for meaning and understanding about creation, divinity, ourselves and the future.
---

Anam Cara: A Book of Celtic Wisdom by John O'Donohue

Anam Cara is gaelic for "soul Friend." This book explores spirituality and the path of being a soul friend to oneself and with others. It is a book of ancient teachings, stories, and blessings from an author too soon lost to us.
---

Daring Greatly by Brene Brown

Fear often stops us. Thus our vulnerability remains hidden in inaction and the judgments we carry about ourselves serve no purpose other than to add to our beliefs of "not being good enough." Here is a book to read, read again, and then carry with you. Brene Brown reminds us that we can dare to be vulnerable in our lives as parents, partners, teachers, employees, employers or whatever "hat" we wear. And in that way, we discover not only greater courage but, more importantly, a wholehearted way to embrace life.

​

---
Links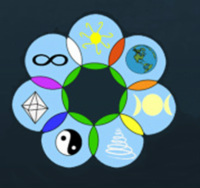 There are many ways to build community. Over the years I have been touched and changed by reading others' works, attending workshops, and studying with others. Whether in spirituality, intuition, psychology, shamanism, community building, or environment, these experiences have brought me to my growing edge and to new paths. I want to list some links that will connect you with other teachers and leaders who can take you on new pathways of discovery.
---
www.winterrobinson.com
WINTER ROBINSON
is a medical intuitive, workshop leader, therapist, author and gardener. The author of
A Hidden Order

and other books, her workshops and consultations encourage us to delve into the mysteries, to grow personally, and to build community. Winter and her husband, Michael, live in Maine. Together, their work and their off-the-grid lifestyle challenge us to look clearly at the choices we make daily and to consider how those choices affect others and the planet, at large. Contact her for
consultations and workshops.
www.joannamacy.net
JOANNA MACY
, a scholar of Buddhism, general systems theory and deep ecology, is a respected activist, leader and elder in the
peace movement, ecopsychology and ecophilosophy. My own explorations in ecopsychology brought me to one of her books,
Coming
Back to Life: Practices to Reconnect Our Lives, Our World,
co-authored with Molly Young Brown. Her workshops bring one into deep connection with the self and our responsibility for all that exists on this planet.
www.matthewfox.org
Through the paradigm of Creation Spirituality,
MATTHEW FOX
melds the mysticism of early visionaries like Hildegard von Bingen, Meister Eckhart and Thomas Aquinas with today's struggles for social justice, feminism and environmentalism. A Dominican priest and theologian, he was expelled by the Vatican for his outspoken passion and activism. He is now an Episcopal priest working to reform religion so that it reflects compassion, creativity and justice.
www.sanctuarynh.com
Therapist, teacher, author, the Rev.
ELIZABETH "ALAYA" CHADWICK
is also the founder of the Whole Point Institute and The Wisdom Way workshops in empowerment and transformation. Her enthusiastic, playful and non-judgmental style in working with individuals, couples, and groups opens doors and allows the wisdom of our lives to unfold – the wisdom that leads us to new choices, new risks, and lives with deep meaning.
www.schooloflostborders.org
MEREDITH LITTLE with her late husband, Steven Foster, founded The School of Lost Borders as a training center for wilderness rites of passage. Following Steven's death, Meredith expanded the School's offerings to include The Practice of Living and Dying – a curriculum drawing from both the hospice movement and the rites of passage movement. The School's programs look to the natural world as wisdom teachers as we find our way in this increasingly dangerous and challenging world.
http://rowecenter.org/
The
ROWE CENTER
, a Unitarian Universalist Camp and Conference Center in western Massachusetts, offers workshops led by gifted leaders in the fields of nature, spirit, personal growth, values and creativity and art on long weekends throughout the year. The woodland setting and the vegetarian cooking nourish both body and soul and are wonderful complements to the workshop offerings and the community feeling.
www.starwalkervisions.com
SANDY CORCORAN
is a shamanic counselor who has been mentored by indigenous elders from various meso-american cultures.
She offers workshops and individual consultations in Soul Retrieval, EarthPath Charts, the Tarot, and the dream time among other skills. Yearly she leads international journeys to sacred sites so that participants can explore both the mystical and magical to enhance personal growth and to bring those gifts forward into community. Sandy's book,
Shamanic Awakening: My Journey Between the Dark and the Daylight"
will be published in 2014.